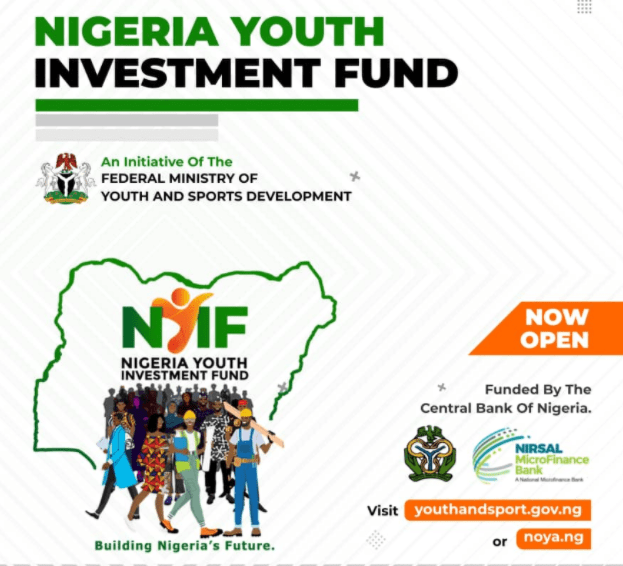 ₦75 Billion Nigeria Youth Investment Fund Loan by Federal Government for Youths
More Gist
Interested business owners and non-business owners can now apply for the Federal Government's N75 billion Nigeria Youth Investment Fund (NYIF). Funded by the Central Bank of Nigeria (CBN), the NYIF scheme was launched by the Federal Ministry of Youth and Sports Development (FMYSD) to provide investment loans to business and non-business owners i Nigeria.


Unregistered businesses can access up to ₦250,000 in funding whilst registered businesses can apply for up to N3 million. Granted loans will run for a maximum of 5 years and attract a 5% interest per annum.


Those Eligible for the Loans
Individuals or sole proprietors must be within the ages of 18 to 35 years and have operational businesses in Nigeria.
To qualify, they must have not been convicted of any financial crime in the last 10 years as well as possess a local government of origin certificate.
For youth-owned enterprises, they must be duly registered with the Corporate Affairs Commission (CAC) and provide a business plan. They must have a Tax Identification Number (TIN) and a training certificate from approved FMYSD Entrepreneurship Development Institutes (EDIs).
All applicants must possess valid Bank Verification Numbers to be eligible.
How to Apply
Step 1: Visit the site - Visit the official web portal of the site by logging on to nyif.nmfb.com.ng you can use your phone or your computer device; make sure you are using chrome browser to avoid any hiccups.
Click on the "Apply Here" to proceed.



Step 2: Input your personal information - Enter your first, middle and last names. Your last name is your surname. Fill in your 11-digit BVN correctly. Click "Next" to continue.




Step 3:Input your residential information - If your BVN has been successfully verified, your date of birth will automatically load at this stage. Enter your phone number, email address and select your gender.
If you have forgotten your BVN, or need to access it immediately, you don't necessarily have to go to your bank to retrieve it, with just a simple universal code you can check your BVN with your mobile phone, no internet required. You can use this code *565*0# to check your BVN code on any network you are using, MTN, Glo, 9Mobile, or Airtel. Just make sure you are dialing it from the sim you used to register for the BVN. Note, it comes with a fee of ₦25 only.
Fill in your residential address, state and local government area.
These are the house address, state and local government area where you live. Check again to ensure there are no errors. Click "Next" to continue.



Step 4: Select your Zone and your Educational Qualification - At this stage, enter your geo-political zone i.e., either North West, North East, North Central, South West, South East or South South. Select your state of origin and local government area of origin. These are different from your state and local government area of residence except you live in your state of origin. Choose your highest educational level then click "Next" to proceed to final stage.



You have gotten to th final stage of your application. Simply choose a preferred training centre and click on how you heard about the NYIF. Training will be conducted; it is free, only for 5-days, and will be done online.



After submission you will get a prompt back as shown below

---
---
Teachers Registration Council of Nigeria (TRCN)
What is teachers Registration Council of Nigeria (TRCN)?
More Gist
Teachers Registration Council of Nigeria, TRCN is an agency of the Federal Ministry of Education of Nigeria. It was established by the TRCN Decree N0. 31 of 1993 (now TRCN Act CAP T3 of 2004). The major mandates are the regulation and control of the Teaching Profession at all levels of the Nigerian Education system, both in the public and private sectors

Just like Accountants in Nigeria has a professional body called Institute of Chartered Accountants(ICAN), Engineers has the Nigerian Society of Engineers among others, Medical practitioners has Nigerian Medical Association; the Teachers Registration of Nigeria came to fill in this gap for teachers since the clamor for the professionalization of the teaching profession in the country is gaining momentum.

The vision statement of the agency is to "effectively regulated teaching profession in Nigeria founded upon robust teacher education and practice and where teacher quality, discipline, professionalism, reward and dignity match international standards."

While the mission statement is "To assure excellence and professionalism among teachers at all levels of the nation's education system, using effective registration, licensing, accreditation, monitoring and supervision of teacher education programmes, promoting continuing professional development and maintenance of discipline as paradigms for the overall renaissance of the teaching profession in Nigeria."


Who Needs to Register for Teachers Registration Council of Nigeria?
All individuals that read education either in Education Psychology, Education science, Adult and Non-formal education and all other departments in education faculty are required to register, write the examination, and become a member of the teachers' registration council of Nigeria else such individual won't be acknowledged as a professional teacher.
What are the benefits of becoming a member of TRCN?
Belonging to any professional bodies comes with their advantages; in this instance, among the benefits that come with being a member of the teachers' registration council of Nigeria are:

You are now recognized as a professional teacher
The agency fights for your right when trampled upon
You are not alone in the teaching profession
You can now be employed by Federal and State ministries of Education
You can now apply for educational loan if made available by the government

What is the Process of Registration for TRCN?
There are two ways of becoming a member of trcn:
1- When you are an Undergraduate - The responsibility is on your school to notify you about the registration, ensure that you are registered after you have paid the amount specified by the school, and be issued a certificate that you will use when applying for teaching positions in Nigeria
2- Register on your own and become a member
How do I Apply for TRCN?
To apply for TRCN you have to enroll for the Professional Qualifying Examination (PQE) first by obtaining the registration forms from State offices nationwide. You can get the coordinator, address, email, and phone number of various states offices nationwide through this link TRCN STATE OFFICES
Completed registration forms must be returned with evidence of payment of examination fees payable according to categories thus;

TRCN Certificate
After your registration and successful examination you will be issued a certificate that looks like the one below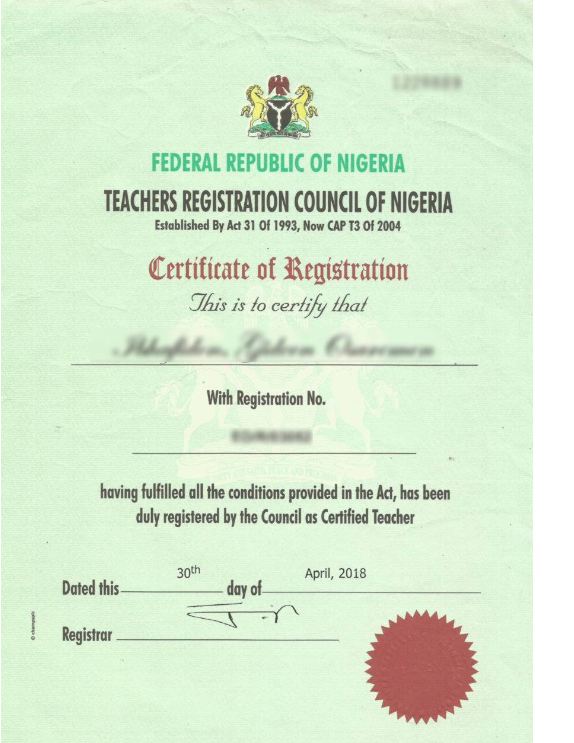 The certificate has a unique number, unique like your phone number or bank verification number. The number is what you are going to be using for some online applications like the just concluded registration for Federal Teachers Scheme that requires TRCN number without the scanned copy of the certificate

Breaking News: Niger Delta Militants threatens Federal Government of Nigeria with 11-points Demand
More Gist
The Niger Delta Militants which comprises of nine states in the southern region of Nigeria has made 11-points demands to Federal Government of Nigeria. This demand is coming not up to a week when the former militant leader, Government Oweizide Ekpemupolo a.k.a Tompolo made his first appearance after six (6) years of hiding from the security agencies.
Leader of the militants under the auspices of Reformed Niger Delta Avengers, RNDA, self-styled "Major General" Johnmark Ezonebi, in an electronic mail statement, said the coalition had communicated multinational oil companies to evacuate their staff to avoid human causalities.

RNDA stated : "In support of the existing demands by the #EndSARS protesters, we have added new demands that could stop the mayhem on foreign oil multinationals, oil and gas infrastructures and the Joint Military Task Force involved in the Operation Crocodile Smile in the region." " have vowed to take the destiny of our region into our hands and kick-start the occupation of all the major oil wells and the oil platforms, we will also bring down all major crude oil production pipelines to zero," it added. First on the demands of the RNDA is: "Urgent release of the N98 billion gas flare penalty fund to the host communities of the Niger Delta, which are funds domiciled in the Federation Accounts through the Central Bank of Nigeria, CBN, by the International Oil Companies, IOCs, as payment to compensate the communities being affected in the creeks of the Niger Delta due to their environmental pollutions and environmental hazard caused the multinational oil companies."

The group recalled the President Muhammadu Buhari administration withdrew $1 billion from the Excess Crude Account sometime in 2019 to acquire heavy weapons to fight Boko Haram insurgents in the North East, adding: "This is wicked and insensitive to the peace accord signed with the people of the Niger Delta region, most especially the RNDA militant group that accepted the ceasefire agreement on 21st of August 2016 and nothing has been done so far."

"Secondly, we demand the total control of our God -given resources in the region. If some parts of northern states are allowed to operate and will be given license to engage in illegal mining and sale of gold, it means it is time the people of the Niger Delta region, especially the Ijaw ethnic nationality be given equal opportunity to go ahead with artisan and local refining of crude oil in the creeks without any form of intimidation and harassment from the Nigerian government as well."

"Thirdly, RNDA demands that riverine areas in Niger Delta be connected to the cities with roads and bridges with provisions in the 2021 budget. A road project for instance should connect Warri to Ogulagha, Burutu local government area, which is a host to Forcardos Terminal, producing over one million barrels of crude oil that contribute trillions of dollars to the federal government on daily basis."

"Fourthly, the proposed 2021 budget, which appropriated billions of naira to the Minister of Niger Delta Affairs, Senator Godswill Akpabio, and the Niger Delta Development Commission, NDDC, should be withdrawn and put on hold and the Minister of the Niger Delta Affairs should not be allowed to defend the proposed budget until the substantive board of the NDDC is inaugurated and sworn in by President Muhammadu Buhari. "

We also demand that Senator Godswill Akpabio be mandated to hold a town hall meeting with the traditional rulers, stakeholders and leadership of RNDA militant group in the creek in order to show a genuine intention that the budget proposal will not witness embezzlement and diversion of billions to Akpabio and his cronies' pockets without any tangible and practical development in the creeks of the region." "And we also demand immediate take- off and re- opening of the Burutu Seaport by the federal government, which should be included in the 2021 budget. "

More importantly to the RNDA militant group, we call for an emergency review of the Revenue Allocation Act in other to give proper interpretation of the 13 per cent derivation funds that will not be deposited in the hands of the so- called inhuman wicked corrupt minded Niger Delta governors that has been pocketing the billions of naira on monthly basis from the federation allocation account without getting to the oil producing communities in the creeks of Niger Delta and without any accountability to the long neglected emancipated oil producing communities that are the original owners of the 13 per cent derivation funds, according to section 162 sub section 2 of the 1991 constitution as amended."

"So we demand proper interpretation of this Act by the Attorney General of the Federation as to the chief law officer of the country because the people of the Niger Delta oil producing communities are tired of this perpetual man-made injustice caused by the so -called Niger Delta callous inhuman wicked and corrupt minded governors. "We also called for a review of the four-point agreement with the Host Communities of Nigeria, HOSTCOM, which was submitted to the federal government by the national chairman, Prince Mike Emuh, and has not been approved up till date. The provisions of the agreement which include 10,000 pipeline surveillance jobs to the oil producing communities through the leadership of HOSTCOM has not been approved. "Yet the Nigeria National Petroleum Corporation, NNPC went ahead to award pipeline surveillance contract to one individual, Chief Captain Hosa Wells Okunbor, who is the managing director of Ocean Marine Solutions Company that is handling the pipeline surveillance security contract worth over 18. 6 million dollars annually just for OML30, which is TFP pipeline security surveillance contract alone. "Not to talk of the Trans-Escravos Warri Kaduna pipeline amounting to over 20. 5 million dollars annually and that of the Bonny Nembe Creek trunk pipeline surveillance job that worth over 2.7 million dollars contract in the creek of Niger Delta. RNDA and HOSTCOM are not benefiting from these billion dollars pipeline surveillance security contract jobs in the hands of one individual from Edo state and the situation will not be accepted any more in the creek as far as the pipeline surveillance security contract job is concern.

"Therefore, RNDA demands pipeline security surveillance job to accommodate the members of the Reformed Niger Delta Avengers group, who are over 5,000 in the creek and we will no longer allow this to happen any more in the creek or else we will bring down all the pipelines in our creek within the stipulated time of ultimatum.

"Furthermore, we demand release of the 10 licenses for modular refineries in Niger Delta, which the federal government has not approved up till this moment, yet the Federal Executive Council is approving billions and trillions every week in the presidency through the sales of our crude oil on 1.86 million dollars to 2.2 million dollars barrels on daily basis without any tangible." So spelt out by the militants.
---
---
Corpers got married in Anambra State Before Their Passing out Parade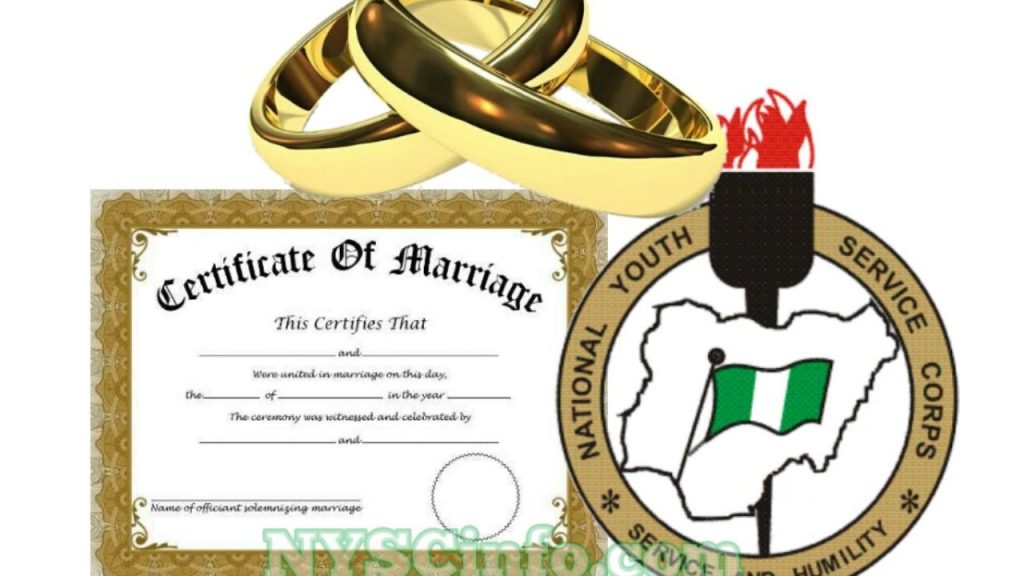 More Gist
2019 Batch C NYSC members who met while carrying out their national service fell in love in the process and decided to tie the nut. While other states would be giving out certificates to corps members that just completed their national youth service, Anambra State NYSC chapter on the other hand would be celebrating not just passing out parade ceremony but also marriage ceremony as some 2019 Batch C corps members finally said yes to one another.
The newest couples in town are:
Henry Nwachoko Charles Ruth
Eze Obinwa
Oluchi peace
Oluchukwu Davis
Ohale Nkemakolam
Nsofor Obianuju
Ogberie Collins
Okafor Chukwudi
Bernard Faith Amarachi
Nwokearu Chinyeremaka

In preparation to the passing out parade ceremony held at Cihcotel Hotel Awka (Anambra state'' capital) as part of their passing out parade programme scheduled for 15th October, 2020 the state NYSC coordinator, Mr Kehinde Aremu urged parents to always pray for such privilege for their children at any given time, adding that scheme has not had such laudable event since its creation in Nigeria.

"We have been having Corps members getting married to each other in ones, and twos, but this is epoch making. We never had an assemblage of this magnitude in the history of NYSC. I prayed for you all to have a joyful and loving married lives," he said.

In addendum; the Assistant Director, NYSC South East Area office, Mrs Ify Nwafor, said many people embark on NYSC for different reasons and one of it includes the chance to meet the love of their lives which these ones have found and I join others to celebrate and congratulated them today on this occasion

Some of the married corps members gave their experiences and how they met with the love of their lives. Mrs. Okearu Chinyeremaka, Mrs. Bernard Faith Amarachi, Mr. Oluchukwu Davis and Ohale Nkemakolam, revealed that they met each other at different locations which include; morning prayers at the orientation camp, Onitsha park among others, where they got attracted to each other before starting their relationship.

There were cutting of cake, presentation of cash gifts of N100,000, prayers, goodwill messages, lots of snapping of pictures, merriment, and celebrations.
---
---
Npower NSIP Focal Persons and Contact in all States in Nigeria (Updated Version)
More Gist
Npower and Nigeria's National Social Investment Programmes (NSIP) Focal Persons and Contact in all States in Nigeria (Latest version)
Full list of NPower State Focal Persons in 36 states and Their Phone Numbers

Who is a National Social Investment Programmes Focal Person (NSIP)?
NSIP Focal persons are appointed by the State Governors to oversee the Social Investment Programmes of the Federal Government namely: N-power, Government Enterprise and Empowerment Programme (GEEP), MarketMoni, Conditional Cash Transfer (CCT), and the National Home-Grown School Feeding Programme (NHGSFP).
As an Npower beneficiary, you must be familiar with your state focal person because before any issue gets to Federal Government, it will pass through your state focal person and sometimes the state focal person can resolve your issues.
It is very important you know your state focal person and also make sure that you have their contact for inquiries. Full list of NPower State Focal Persons in 36 states and Their Phone Numbers
Focal persons are Npower representatives in their state serving as liaison between the N-power headquarters (in Abuja) and the beneficiaries in their state of primary assignment. Please Note: The names and phone number here are subject to change.
NPower State Focal Persons In The South West
NPower Ekiti State Focal Person and Phone Number:
Olajide Gbenga
Contact: 07039701178
NPower Lagos State Focal Person and Phone Number:
Mrs. Olusola Falana
Contact: 08121167144
Npower Ogun State Focal Person and Phone Number:
Adeleke Adewolu
Contact: 08133051991
Npower Ondo State Focal Person and Phone Number:
Bolanle Olafunmiloye
Contact: 08033298380
Npower Osun State Focal Person and Phone Number:
Idiat Oluyemisi Babalola
Contact: 08030853537
Npower Oyo State Focal Person and Phone Number:
Atiuke Osunkoya
Contact: 08051935095
NPower State Focal Persons In The South South
Npower Akwa Ibom State Focal Person and Phone Number:
Aniefiok Thomas
Contact: 08053441188
Npower Cross River State Focal Person and Phone Number:
Ambassador Nkoyo Toyo
Contact: 07057215899
Npower Bayelsa State Focal Person and Phone Number:
Martha Jenakumo
Contact: 08038690206
Npower Edo State Focal Person and Phone Number:
Ken ihensekhien/Prof. Julius Ihonvbere
Contact: 07016455554; 08055711112
Npower Rivers State Focal Person and Phone Number:
Mr Alwell Ihunda
Contact: 08033124099
Npower Delta State Focal Person and Phone Number:
Mrs. Shimite Bello
Contact: Not provided
NPower State Focal Persons In The South East
Npower Abia State Focal Person and Phone Number:
Mr Chinenye Nwaogu
Contact: 08033307750
Npower Anambra State Focal Person and Phone Number:
Mark Okoye
Contact: 08187726255
Npower Eboyin State Focal Person and Phone Number:
Mr. Okorafor Nnanna Nwaji
Contact: 09092865511
Npower Enugu State Focal Person and Phone Number:
Dan Onyishi
Contact: 08124730366
Npower Imo State Focal Person and Phone Number:
Mrs Nzeribe
Contact: 08093070990
Npower Imo State Focal Person and Phone Number:
Mrs Nzeribe
Contact: 08093070990
NPower State Focal Persons In The North East
Npower Adamawa State Focal Person and Phone Number:
Commodore Usman Sali Bodes (rtd).
Contact: 08033102847
Npower Bauchi State Focal Person and Phone Number:
Mansur Manu Soro
Contact: 08032870453
Npower Borno State Focal Person and Phone Number:
Babazanna Abdulkarim
Contact: 08034244138, 08024309004
Npower Gombe State Focal Person and Phone Number:
Maryam Isa Mel
Contact: 08032851493
Npower Taraba State Focal Person and Phone Number:
Beatrice Kitchener
Contact: 07037688127
Npower Yobe State Focal Person and Phone Number:
Muhammad A. Yusufari
Contact: 08066417337
NPower State Focal Persons In The North Central
Npower Benue State Focal Person and Phone Number:
Engr. Conrad Utaan
Contact: 08169997870
Npower Federal Capital Territory, Abuja Focal Person and Phone Number:
Mrs Elegbede Irene Adebola
Contact: 08033059629
Npower Kwara State Focal Person and Phone Number:
Elder Ayobola Samuel
Contact: 08033584401; 08059733525
Npower Kogi State Focal Person and Phone Number:
Ibrahim Adoga
Contact: 080177577771
Npower Nasarawa State Focal Person and Phone Number:
Mohammed Danazimi
Contact: 08065478482, 08095786460
Npower Niger State Focal Person and Phone Number:
Hon Afiniki E. Dauda
Contact: 08033400531
Npower PLateau State Focal Person and Phone Number:
Dr. Sumaye Fadimatu Hamza
Contact: 08039612233
NPower State Focal Persons In The North West
Npower Jigawa State Focal Person and Phone Number:
Bala Usman Chamo
Contact: 08065952919
Npower Kaduna State Focal Person and Phone Number:
Muhammad Sani Abdullah
Contact: 08033345688
Npower Kano State Focal Person and Phone Number:
Aisha Jaafar Yusuf
Contact: 08033928712; 08173646600
Npower Katsina State Focal Person and Phone Number:
Abdulkadir Nasir. Binta Abba Umar
Contact: 08144086300
Npower Kebbi State Focal Person and Phone Number:
Usman Buhari Ali
Contact: 08067831800
Npower Sokoto State Focal Person and Phone Number:
Lawali Zagi
Contact: 08022712023
Npower Zamfara State Focal Person and Phone Number:
Hajiya Fatima Umaru Shinkafi
Contact: 08036009838
Some Conditions to take note of:
Call only at working hours. Working hours in Nigeria are from Monday to Friday and between 8AM-4PM
Call only on working days. Don't call during holidays. Allow him/her to enjoy the little period he/she will be having with his/her family.
Don't call to greet. He/She doesn't know you personally, "how's your family? How is your work?" are irrelevant questions. Go straight to your problem by introducing yourself as N-power volunteer.
Call your state focal person ONLY for N-Power related issues. Don't call for other jobs.
Understand the mood of your focal person. When you call someone twice, and he/she doesn't pick, he/she could be busy. Call back some hours later.
---
Npower Batch C Shortlist Information Is Fake Says Ministry Of Humanitarian Affairs
Read more

The Federal Ministry of Humanitarian Affairs have warned Applicants to disregard the shortlist information circulating online. The information stated that N-Power has shortlisted 1.2 million Nigerian youths out of over 5 million Applicants for the next stage of it's 2020 batch C recruitment.
Nigerian youths who took part in the application process can now visit the Npower programme stage 2 portal to check if they were shortlisted for the programme.
The minister said that this information is fake and should be disregarded.

In another development, The Minister Humanitarian Affairs, Disaster Management and Social Development, Hajia Sadiya Umar Farouq, has said the federal government is putting plans in place to ensure that
"exited N-Power beneficiaries are to be engaged or absorbed into other programmes". She stated this today in Abuja during an interaction with National Social Investment Program (NSIP) Focal Persons, Program Managers and State Operations Coordinating Unit (SOCU) officers from all states of the country.

Farouq said she has given approval for the payment of stipends for the exited beneficiaries of batches A and B, up to the month of June 2020, including that of the independent monitors, adding that the final payment of stipend for Batch B is almost ready for transmission to the office of the Accountant General of the Federation for final checks and payment. She said: "This event put together to appreciate the efforts of all the focal persons, program managers and others in different states across the federation. I am aware of the sacrifices and commitment you put in to ensure the smooth implementation of the different programmes and I commend your efforts." Added that; there is no doubt that the National Social Investment Programmes (NSIP) are critical components of the present Administration's activities and are vehicles through which His Excellency President Muhammadu Buhari's vision of lifting 100 million people out of poverty in 10 years will be achieved.
---
Ladiesgist.com join the rest of the world to Mourn the Death of Boseman Chadwick (the Wakanda Superhero that died of Colon Cancer)
Oh. death! Thou art so bare and inconsiderable!!!
We are still feeling the hurt of taking Kobe Bryant away from us now you sting us again with another superhero of ours. More Gist



Young, inspiring, fighter, believer, dreamer, optimist, determined, go-getter, tough, philanthropist, Boseman Chadwick you were all in one and more.


You did great, you fought colon cancer alone without inviting the world into the hassle.


You didn't die Boseman Chadwick, you live forever, Wakanda never dies, Wakanda is forever, Boseman Chadwick lives forever. May heaven Angels welcome you abode.

Rip Boseman Chadwick
---
So Sad.... A lady stole an iPhone and was caught while putting it in her pant
This event has set the internet ablaze with people commenting that, why will such a beautiful lady indulge in such an act.



According to the information garnered online, the lady in question was said to have been caught in the act while trying to hide the phone in her private part (panties).



The situation generated so much heat that policemen were called in to take the lady away.
---